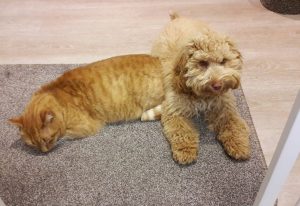 Here's Rufus and Connie, our two little ginger pets. Rufus (left) is a seven year old stray who came to live with us two years ago, and Connie is our five month old Cockerpoo.
As you can see they're good pals. And a matching pair….
[Moreover] Rufus became poorly at the end of February 2018 and didn't recover from an operation to deal with his blocked urethra. The nice lady vet put him out of his agony on the 2nd March. Connie misses him & tries to make friends with similar looking cats. No joy.